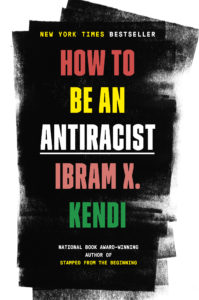 On Nov. 4, I had the privilege of participating in a webinar where author and historian Dr. Ibram X. Kendi spoke about his New York Times best selling book "How to Be an Anti-Racist". The conversation was very open minded and involved a lot of tough topics surrounding bigotry and systemic racism in America. Dr. Kendi delivered a phenomenal message to the community and left many of us thinking about how we can better ourselves to be anti-racist.
When asked about the difference between racism and prejudice/bias, Dr. Kendi thoughtfully responded stating that racism, prejudice and bias are all rooted in bigotry, "no one is born being biased or prejudice" he continued. These things are taught. Racism is rooted in bigotry, but is also fueled by power. Later in the webinar, he spoke about how power is policy. Which is why so many racist policies are essentially integrated into a system. This explains a lot. Historically, racist people have been the most powerful.
Another interesting point Dr. Kendi mentioned was, "denial is addiction". Those who refuse to acknowledge facts but constantly are shown proof and evidence are addicted. I thought this was very relevant to the nation's current state with the pandemic. COVID-19 has been consistently denied as some sort of hoax by many people despite the evidence by scientists and medical doctors.
This brought Dr. Kendi to his next point. He explains how studies have shown that COVID-19 is more likely to be contracted by lower income Black and brown communities. On the other hand, there are many people who refuse to wear masks and abide by CDC orders. This puts the people who are high risk (people of color) in danger. This is harmful and racist.
Dr. Kendi ended the webinar by leaving the audience with some advice. He urged the viewers to simultaneously join a local social justice group and still work on yourself to be anti-racist. This way you can implement change within yourself and the system. He continues by saying that although he is a scholar and has dedicated hours of research studying racism, he is constantly learning how to be anti-racist as well. I believe this was encouraging for many of us. I left this webinar feeling really hopeful.
Conversations about racism are difficult to have, but they are so necessary in order for change to occur. As a young adult, I am not waiting for change to magically occur, I am taking steps to ensure they will occur, slowly but surely.
"We need to be weapons of mass construction, weapons of mass love. It's not enough just to change the system. We need to change ourselves." -Assata Shakur
By NVC Student Haneen Rafati
Anti-Racist Resources
PBS's "Teaching Your Child About Black History Month"
"How Studying Privilege Systems Can Strengthen Compassion" | Peggy McIntosh at TEDxTimberlaneSchools (18:26)
White Fragility: Why It's So Hard for White People to Talk About Racism by Robin DiAngelo, PhD
Dear White People (Justin Simien) — Netflix
If Beale Street Could Talk (Barry Jenkins) — Hulu
The Hate U Give (George Tillman Jr.) — Hulu with Cinemax
From health care to education, how systemic racism affects Black Americans
Why everyone should understand 'racial trauma' right now "Who wants to live in a society where so many people routinely experience racial trauma?"
25 Books for People Who Want to Learn More About Race in America