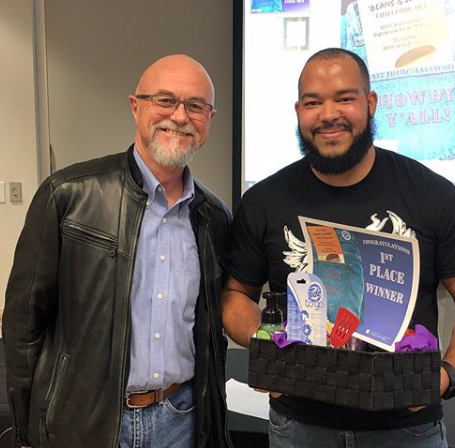 The life of a college student can be busy especially if they are working and going to college part time – even during a pandemic.
For Jerrel Williams, busy is his middle name! This US Army veteran not only attends Northwest Vista College, but is a husband, a dad to two elementary-school age children, and a chef at a private local school that is still operating its daycare. The school is near the Medical Center and many of its parents are considered essential workers. Prior to the coronavirus, he was also busy running his catering business.
Jerrel said once his military career switched to being in the reserves, he wasn't quite sure what to do with himself. He's the main cook at home and often cooked for his platoon. His wife encouraged him to turn his love of cooking into a career and he earned an associate degree from the Culinary Institute of America, San Antonio. It was his mom who gave him the inspiration for his business' name.
"I had to write a paper on what memories food gives you," Jerrel said. "I remember my mom would make Bulgogi (a Korean-style beef you eat with steamed rice). Every time I ate it, it would lead me back to her warm heart (she passed away in 2011). When I have people eat my food, I want them to go back to their heart and cherish memories they have, while creating new memories. I want to make food a memorable experience."
He also created fond memories at NVC when he took home first place in NVC's first inaugural Beans & Chili Cook Off in February. He's hoping to earn an associate degree from NVC next fall and combine his love of cooking, nutrition and fitness to be a knowledgeable resource for his clients that range from athletes, busy parents and businesses.
"NVC provided a warm welcoming feeling (when I first came here), the staff showed heedfulness in seeing me succeed," said Jerrel, who's studying Kinesiology at NVC. "Going to a big university can be overwhelming. Once I finished my first semester all of my instructors reaffirmed my initial thoughts, so for that I truly thank you."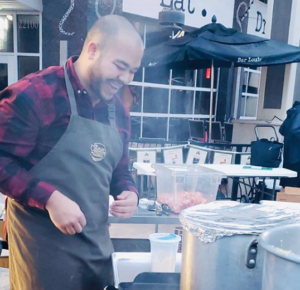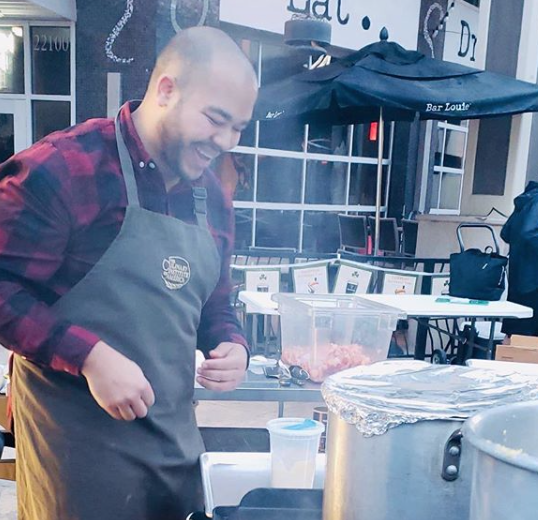 Prior to COVID-19, he and his business partner were busy making food for catering events. Their goal is to get funding for a food truck to one day bring the truck to catering events. While he specializes in Cajun food, his chili is now award-wining and he loves to get creative with dishes. He often posts mouth-watering pictures on his Instagram page (@AWaytotheHeart).
While the catering part of his business has slowed due to the virus, he has transitioned to making meals for athletes and everyday people who need a break from cooking. And the students at Shepherd of the Hills Lutheran School still get to taste his chef creations. When the school was in session, Jerrel and his mentor, Tony Zavala, fed about 200 students a day.
This summer on July 18, Jerrel will be the executive chef and host for the 4th Annual Community Junior Chef Competition on the South Side, which is hosted by San Antonio-based nonprofit, World Lolei Inc. At the event, backpacks and other supplies will be collected to help kids with back to school. Recently Jerrel assisted World Lolei Inc., and several community partners, with the donation of food and hygiene products to over 115 families, as well pay for rent and utilities for seven families for the month of April.
Jerrel said while the intensity of his catering business has slowed due to the virus, he's looking forward to the future.
"At times life may seem like an over whelming struggle however, without struggle there is no progress," Jerrel added. "Continue to stay strong through the tough times and always remember life is too short to wonder what if. I am making my dreams come true, I took that first step and I haven't looked back since. Don't sit on your passion. Make a plan of action, put your heart and soul into it, and prosper."