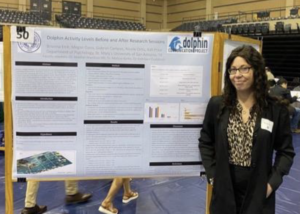 Not many community college students get to study dolphins in the Caribbeans, but Northwest Vista College student Megan Davis, received this opportunity thanks to the National Science Foundation FUERTE grant that NVC has with St. Mary's University.
Over spring break, Megan travelled to Roatan (an island in the Caribbean) to study dolphins, and recently presented her research at St. Mary's Research Symposium, which hosted nearly 300 posters this year.
For the first part of Megan's adventure, she took part in a "field study" or study abroad class at St. Mary's University where her class spent the first weeks reading scientific articles and learning about field research. This class culminated in data collection on a longitudinal study from 2018 – 2023 at the dolphin pod at RIMS (Roatan Institute of Marine Sciences).
"My group looked at dolphin activity levels – specifically, before and after in-water research sessions and in-water guest interactions. We also collected baseline data for each," Megan added.
The "In water research sessions" refers to Dr. Dudzinski, director of the 'Dolphin Communication Project' getting in the water for 30 minutes every morning to conduct her underwater video and audio data collection focusing on behavior and communication. In addition to the in-water activities, Megan's group then analyzed the activity levels in relation to season, utilizing the longitudinal data.
She said their findings refuted their hypotheses and are interesting, as in part contrary, to published research. She said they found dolphins are more active in summer and fall, but causality can not be determined.
In addition to dolphin data collection, Megan's group took part in coastal inter-tidal surveys, as well as experiencing the island and learning about different ecological projects they do, including sea turtle rescues and Coral Reef Restoration.
"It was informative, fun, and overall an incredible experience that I credit NVC & St. Mary's FUERTE program, and all of those involved for helping make this happen," Megan said. "The experience abroad as well as in the classroom has been unparalleled, and I am so thankful that I could take part in something so amazing."
Along with being a part of NVC's Psi Beta National Honor Society, Megan was selected last summer to attend NASA Community College Aerospace Scholars (NCAS) Virtual Experience. She was one out of hundreds of community college students from across the country to participate in the virtual experience, where students form teams and design a mission to explore Moon or Mars.