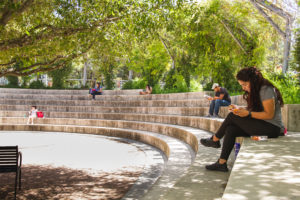 In my family, a good work ethic was expected of me from a very young age. My parents always stressed that anything worth having could only be achieved through hard work. As a first-generation American, this was amplified by the idea that as foreigners in this country, the only way to be successful was to work (and to work hard). Of course, they also expected me to excel at my studies, but in school, being an honor roll student was not nearly as impressive to my family as becoming a manager at my retail job.
By the time I graduated high school, my mother was raising us on her own. We were doing well, but not well enough to afford college. I decided to take a year off and work to put myself through school. I had a good job and made good money before I even graduated high school. I told myself I would work one year, save some money and go back to school. Then, before I knew it, a decade had come and gone. I had spent the last 10 years at the same job, prioritizing work over my dreams.
Unfortunately, like many people worldwide, I lost my job last March due to the pandemic. For the first time in a decade, I had the opportunity to stop and reflect on what I was doing with my life. Ten years I spent at a job that I knew I didn't want to do for the rest of my life. It took unemployment and a pandemic to realize that while I was working hard, I wasn't working towards my goals. I was merely working.
Thankfully, things have been going better than I could have ever imagined. I am currently back in school pursuing the career of my dreams at Northwest Vista College. After so much time off from school, I was nervous about returning, as I am sure many others are. The staff at Alamo Colleges was a big help in easing my nerves. From career counseling to finding the right online degree program for me, they encouraged me to let go of my fears and get back to pursuing my dreams. I am currently wrapping up my first semester back to school, and in eight weeks, I have learned so much. My summer courses covered everything from working with multiple Adobe programs to the basics of HTML, and I hope to use these skills to start my own business one day.
I chose to write about this topic because I know there are numerous other students in a similar situation. The world we live in instills in us that financial security is equivalent to success. I believe having a good job isn't the same as being successful. For me, success comes from finding your purpose in life and pursuing your dreams. Therefore, to anyone who is considering returning to school or is putting it off for the "right" time, the right time is now. I'm not saying it will be easy, but I am saying it will be worth it.
By NVC Student Janeth Cruz