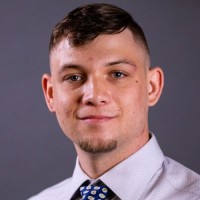 Congratulations to former Northwest Vista College graduate Adam Hooker for being in an elite class to be named a Barry Goldwater Scholar.
According to a story in UTSA Today: Adam is one of only four UTSA students out of 409 national recipients to receive the Barry Goldwater Scholarship, which is the most prestigious national scholarship awarded to undergraduate students engaging in research in the natural sciences, engineering and mathematics. Many of the Scholars, including Adam, have published their research in leading professional journals and have presented their work at professional society conferences.
UTSA Today noted Hooker is the first electrical engineering student to win the Goldwater Scholar award at UTSA. He is also the first transfer student from UTSA to win the award. Last year, the Goldwater Foundation increased accessibility for the scholarship, allowing universities to nominate a fifth student, as long as they transferred from a two-year or four-year institution.
While at NVC, he earned two associate degrees. In 2014, he received an Associate of Art (Business Administration and Management), and in 2018 he earned an Associate of Science (Pre-Engineering). Adam said he hopes his achievements will motivate others at NVC that there are many opportunities open to them.
"Through the elite quality of instruction I received from all of my professors at Northwest Vista College, I have the tools to succeed in my field. As I am finishing my undergraduate studies and am beginning the transition into the workforce and my graduate program, I am given reassurance by the skills I developed during my early coursework," Adam said. "I am incredibly thankful for all the resources that were made available to me during my time at Alamo Colleges and in particular by the Math department of Northwest Vista."
At NVC, Adam participated in Alamo College's CIMA-LSAMP (for STEM students) program and has since worked as an electrical engineering intern with Southwest Research Institute and Allosense. Recently, he was hired by NASA – Armstrong Flight Research Center for a 2021 summer internship.
The Goldwater Foundation is a federally endowed agency established in 1986. The Scholarship Program honoring Senator Barry Goldwater was designed to foster and encourage outstanding students to pursue research careers in the fields of the natural sciences, engineering, and mathematics. The Goldwater Scholarship is the preeminent undergraduate award of its type in these fields.