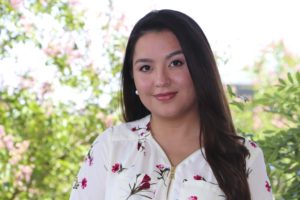 NVC student Steffyn Nowak was relentless in reaching her dream despite life dealt her one too many blows.
At the age of 15, she was raped and had a baby from the assault. Right before she was set to testify against her assailant, his family kidnapped her and took her to Mexico and Guatemala for six months. When she came back to the states, she soon dropped out of high school and lived in her car for several months.
Several years go by and she's happily married with two kids. In spite of all this tragedy, she always wanted to go to college and be a doctor, but she thought her dream was over because she was a full-time mom to two young kids. Her mother took care of her older daughter.
"I started working at Dairy Queen and became a manager and was making some good money," she said. "One day, a young girl with scrubs comes in and I was at the front counter taking orders. I remember all these emotions just started coming to me that I was meant to do something more. I went to the bathroom and cried."
With her GED in hand, Steffyn was ready to take on college for the second time. She had enrolled in Del Mar College in Corpus Christi but couldn't continue after two semesters because her family moved to San Antonio. She received another setback once she got to Northwest Vista College. After examining her GED, the admissions staff told her that her GED was fake. Apparently a company was scamming people out of money for a GED in return.
Steffyn was devastated!
But she didn't give up. She returned to Vista a month later with another GED – this time it was legitimate, and she was able to enroll. Even with a GED, she was able to test high enough into a college algebra course, which is something most student don't do even with a high school diploma. Steffyn said she always loved math and had taught herself calculus and biology by watching YouTube videos.
Steffyn credits many of her instructors at NVC for helping her along the way, as well as her advisor, Kristal, who helped guide her through college. She also had her family and children as a motivating factor. Steffyn wanted to make her father proud of her even though he passed away when she was 7 years old, and her brother tragically died in a motorcycle accident last year at the age of 34.
Fast forward to 2018, Steffyn will be earning her associate degree and walk across the stage on May 14. Along with accomplishing her goal, she received another surprise – a $48,000 scholarship to the University of the Incarnate Word. She plans to go pre-med and be an emergency room surgeon.
"I cried when I found out about the (UIW) scholarship," she added. "My family and friends tell me I was determined to reach my goals. There's always a way."