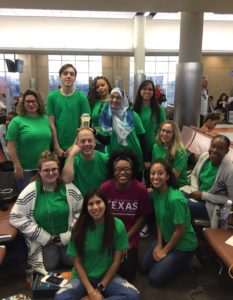 More than a dozen current and former Northwest Vista College psychology students, along with NVC psychology faculty, Anna-Marie Evans, Jen Fox, and Don Lucas attended the annual meeting of the Southwestern Psychological Association (SWPA) from April 5-7 in Albuquerque, New Mexico.
Established in 1953, SWPA represents American Psychological Association members living in Arizona, Arkansas, Kansas, Louisiana, Missouri, New Mexico, Oklahoma, Tennessee, and Texas. SWPA promotes and strengthens psychology's scientific, professional and educational facets.
In addition to attending workshops, invited talks, research symposia, poster sessions, and research paper sessions — several students presented their original research to standing-room-only audiences!
Kiana Kelley, Diane Goguen, Tailar Matthews, and Kristelle Cefre presented their research titled, "Dispelling Sexual Myths with Higher and Virtual Education."
Areayla Jeanpierre, Valerie Ortiz, and Marin McDaniel presented their research titled, "What is Your Sex IQ?"
Maimoona Palwala, Chris Lowell, and Kristina Martinez presented their research titled, "Sexual Language is implicitly More Offensive to Females than Males."
Ethan Berry, Christian Salazar, Jacqueline Tucker, and Jacqueline Dominguez presented their research titled, "Does Childhood Adversity Affect Overall Well-Being?"
Summaries of their research can be found at: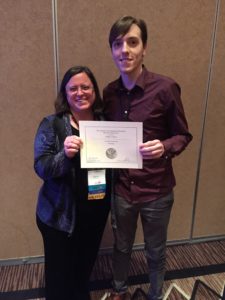 https://www.xcdsystem.com/swpsych/program/hZV1oUP/index.cfm
Additionally, during the SWPA award ceremonies, Ethan Berry received national recognition from the American Psychological Association and was awarded for his services in the Northwest Vista College chapter of Psi Beta.
Several students have on-going research projects they plan to present at next year's annual meet of the SWPA, which will be in Frisco, Texas.