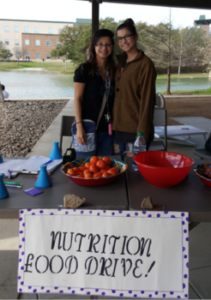 Northwest Vista College nutrition students are hosting a food drive on campus. Jo Ann Gonzalez's students are working on a service project with the Guadalupe Community Center and the students chose to also participate in the 40 Cans for Lent Food Drive.
Last year, the class collected 550 pounds of food which was the second most food collected among local universities such as UTSA, OLLU, St. Mary's (1st), and UIW. Gonzalez, NVC assistant professor of Biology, said she's hoping the campus community can spread the word and make donations. She has a bin in her office in Live Oak, 306Q and will also have one set up at the NVC Science Festival on April 2-3.
11.8% (15 million) of US households were food insecure during 2017.  (Source: Economic Research Service/USDA data)
Texas is ranked 2nd in the nation for food insecurity (Source: San Antonio Food Bank)
The cost of a meal is $2.46 however SNAP benefits cover $1.27 (48.4% not covered). (Source: https://www.feedingtexas.org/zip/78207/)
Many food insecure households are considered the  "working poor" in which at least one adult works, but after monthly expenses are paid there is little money left to feed everyone in the family adequately. According to the San Antonio Food Bank, 46% of their clients work.