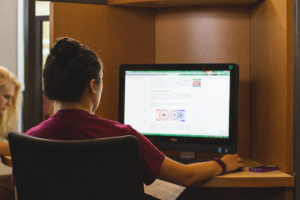 I feel like I have been challenged this semester in balancing life and school, or really just balancing my classes in general.
I didn't have too much of an issue at the beginning of the semester until I started a very advanced flex class. It was a Interactive Web Elements course where we were learning how to make WordPress templates from scratch.
I learned it was the straw that broke the camel's back–like when you have a tower of cards, and everything is okay and nice until you put on that one card that makes the tower crumble. Maybe I'm being too dramatic – just a little.
But this class was very hard, and required a lot of my attention. Inevitably, I had to drop it this semester. I do feel a load off my shoulders…even if I do get a W and I felt bad about dropping my first class.
Dropping a class has also been a learning experience–I now know what I can and cannot handle. I would definitely love to take this class when I have more time to focus on it since it will be helpful for my career. Here are a couple things to remember, if you ever decide you want to take a flex course:
1. What kind of course is it? Is it advanced?
2. With your current classes, can you add on a fast-paced class?
3. Do you have the skillset to take this class or would it be best to wait until later?
Here's to continuing to balance everything in my life, including my classes!
By NVC Student Sarah Hegstrom