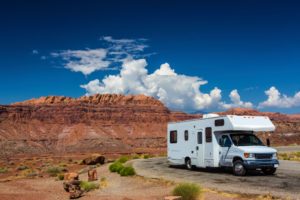 I decided to take online classes since I am constantly on the move. You see, my husband and I decided to travel cross country via RV once our youngest daughter got into college. Once we moved her into her dorm, we packed up and put the house up for sale.
We are now full timers in our RV. I am enjoying all of the sightseeing. However, with us being on the road it is impossible for me to find temporary employment or attend classes on campus. My professional background is in the medical field. Since these positions aren't easy to get into, especially for short term, I decided to look into something else.
There are many job opportunities that you can do online but there are many scams as well. I have come across many people that work online doing virtual assistant, blogging, social media management, websites, data entry, and much more. Unfortunately, these are areas I'm not too familiar with so my only option was to look into a degree plan that would allow me to study while on the road to be able to achieve a career with my current lifestyle.
This is my second semester taking all online classes. It can be very stressful and challenging at times. Living on the road in the RV, you have to make certain that you have good internet service, but prepared to hit a lot of dead spots. You definitely need to have a time management plan. Believe me, it is very easy to fall off track. This is something you have to train yourself on and stick to it.
Make it a habit to check on announcements, emails, and assignments daily. It was always my belief that all assignments were due on Sundays by midnight but that is not that case. Checking these sites daily will help you stay on top of your courses throughout the semester.
Also, if you have any questions or simply need clarification on assignments, you should contact your professor as soon as possible. They are there to help you, you just need to reach out.
By NVC Student Connie Miller